About Jager Holland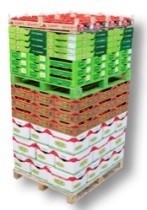 Quality is central to Jager Holland. This applies not only to the products, but also to dealing with relationships and the way we conduct our business. Healthy business with a healthy product is the heart of Jager Holland.
The starting point is a good relationship with customers, suppliers and employees, aimed at long-term cooperation. Jager Holland is literally and figuratively at the heart of the chain, constantly striving to find the best solution and tailor-made solutions for its customers. This customisation covers the full range of all kinds of fresh vegetables, fruit, potatoes, mushrooms and herbs that you can imagine. This applies to both conventional and organic products. In addition, Jager Holland specialises in mixpallets, with which it responds strongly to the wishes of its customers.
We see the bundling of commercial and logistics activities as added value. In doing so, we believe it is important that we can best address our customers and suppliers in their own language. Our commercial team consists of employees who, in addition to Dutch, also have excellent command of English, German, Danish, Swedish, Polish and Spanish.


WTG Logistics
WTG Logistics is part of the Jager group and as an independent transport operator, WTG Logistics is involved in the conditioned transport mainly focused on Food.
WTG Logistics loads growers and all AGF auctions in the Netherlands and Belgium on a daily basis. Through the conditioned DC in Emmen, the goods are delivered to the customers in mainly Germany and Scandinavia at the desired place and time.


Terms and Conditions

Our terms and conditions are filed with the Chamber of Commerce Drenthe KvK: 04028596, under number 2544.